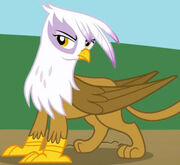 Silgryphon is a longtime FARK wrestling thread poster, and a six time, six time, six time, six time, six time, SIX TIME Gredunza champion. He also managed to win the Pony Global Television Championship of the World on one occasion, although he is an  fWc member who is NOT a pony!  Mr. Gryphon loves to give out chairshots to newbie posters. He is ultimate in chair shot authority. Beware
Personal Life
Edit
Mr. Gryphon is a native of Georgia. He once applied to the Cobb County Police Academy, only to wash out when his instructor noticed his reticence to dishing out "Hard Time" to criminals. He currently resides in the abandoned WCW Power Plant building, spending his time listening to the ghost of Sgt. Buddy Lee Parker tell him how he'll never be as big a star as Ice Train or Firebreaker Chip unless he works harder at learning a proper armbar. The fWc worries about him. 
Ad blocker interference detected!
Wikia is a free-to-use site that makes money from advertising. We have a modified experience for viewers using ad blockers

Wikia is not accessible if you've made further modifications. Remove the custom ad blocker rule(s) and the page will load as expected.