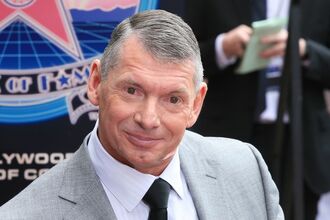 Senile Vince (real name Vincent Kennedy McMahon) is some weirdo who stumbled upon FWc Japan and started rambling in large block capital letters. Nobody knows where he came from because he barely ever posted in wrestling threads in mainland.
Information gathered via "Last seen" signatures after posts
Edit
Vince has a framed image of a naked, spread-eagle Vickie Guerrero that he likes to snort drugs off of. He also has difficulty spelling "Guerrero".
Vince thinks perfume and cologne smell like "whores and cat urine" and gives presentations to the entire WWE on a 1980's overhead projector
Vince has full-frontal nude wall-height posters of Ryback, Big E Langston and the Bella Twins. It's assumed there's one of Vickie, too, but probably back at the McMahonsion.
Pecking Order for TONIGHT posts
Edit
Vince seems to heavily favor himself and John Cena when it comes to promotion.
TONIGHT posts
often feature derogatory comments toward CM Punk, Daniel Bryan, Dolph Ziggler, The Shield, and anyone else the smark community finds remotely interesting. He refers to Bray Wyatt as "SOME FAT FUCK" and is convinced Wyatt is a mistakenly-hired janitor.
Vince uses even larger-than-normal block lettering for describing himself, and usually refers to his children as "GORGEOUS" or "BEAUTIFUL" -- this even applies to Triple H despite The H not being Vince's actual flesh-and-blood. For a while, Vince would use "FUCK YEAH RYBACK!" every time he mentioned Ryback's name in a TONIGHT post, but this seems to be dying off as his interest in Ryback mirrors the lack of direction given to the Ryback character on WWE TV as of late.
YOU ALL SUCK AND I HATE YOU
Edit
Vince really wants you to watch every show and spend as much money as you possibly can on WWE PPV events. He'd prefer if you didn't buy any tickets to live shows, because he views the wrestling audience as "gross" and "smelly" and "poor". By staying home and watching it on TV for like $50 a pop, it allows him to go find pretty people and pay them to be in the audience. And wouldn't you rather be looking at pretty people?
OH FUCK THIS NICEY-NICE BULLSHIT. DOWNLOAD THE GODDAMN APP.
I'M GOING BACK TO WATCHING HALL & OATES LIVE, BECAUSE I LOVE NEW MUSIC.
PS: FUCK YOU, SMARKS.
Ad blocker interference detected!
Wikia is a free-to-use site that makes money from advertising. We have a modified experience for viewers using ad blockers

Wikia is not accessible if you've made further modifications. Remove the custom ad blocker rule(s) and the page will load as expected.