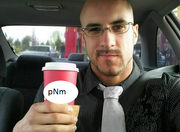 sbdolan is a 2 time Gredunza champion as of Extreme Rules 2015, and a multiple time Global Legendary Television Champion, including the night he defended the title multiple times at Hardcore Justice. He is the only person to win two Gredunza's at Extreme Rules (2012 and 2015)
sbdolan is an infrequent poster, who has been around since the early days. He shows up inconsistantly, sometimes spouting Haikus, sometimes soley the morning after events. He has recorded several title wins, and seems to be the most motivated during hardcore ppv styled events.He prides himself on being pony neutral,not really caring to get involved in the pony vs anti pony nonsense. If you get him in the mood, he will share many odd photos of himself with professional wrestlers from events over the last 13 years. Has been seen on screen at several events, as recently as the Cleveland Rock concert, and as far back as the Invasion ppv, and Bad Blood 2004 as he taunted HHH and Shawn Michaels.
He will never again discuss his time as SataS
Ad blocker interference detected!
Wikia is a free-to-use site that makes money from advertising. We have a modified experience for viewers using ad blockers

Wikia is not accessible if you've made further modifications. Remove the custom ad blocker rule(s) and the page will load as expected.