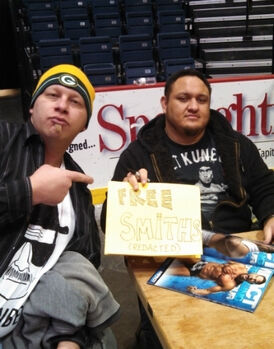 P$ All Star (formerly Pizilla) is a founding member of the fWc and a lifelong wrestling mark. These days, P$ can generally be found in fWc Japan although he does lurk the Fark thread from time to time.
Love of Wrestling
Edit
P$ has had a love of wrestling his whole life, and has watched various wrestling promotions growing up, though admittedly he preferred WCW over WWF/WWE. One of his greatest moments was being able to see the first WCW Monday Night Nitro live at the Mall of America on 9/4/1995. He also was in the audience for the first taping of Monday Night Raw after the brand split on April Fool's Day 2002 at the Pepsi Arena in Albany, NY.  In addition to these shows, he has seen a bunch of house shows put on by promotions such as AWA, ECW, WCW and most recently TNA.
Pi had tickets to see New Years Revolution, also at the Pepsi in Albany, on Jan 8, 2006. Unfortunately he was stuck driving a U-Haul from Florida for his bitch ex-wife, and missed his opportunity to see Edge cash in his MITB case. His friend, who was able to attend, kindly saved Pi his folding chair from the event. Sadly the folding chair broke when, much like life, a fat chick tried to sit on John Cena's face.
P$: the Man, the Myth, the Legend
Edit
P$ is a founding member of the fWc and is responsible for the Last Man Standing competition that draws the Monday Night Raw Fark thread to a close every week.
He won Last Man Standing no less than six times (the actual number may be well over a dozen but the true number now lies shrouded in legend), holds a total of FIVE Hardcore Gredunza Championships, and two Moss Covered Championships.
Pi is the bombastic DJ of an all nude strip club. Pi enjoys the band Kiss, zombie and other horror films, the interwebz, and his kitteh. 
Pi got to meet some of the current roster at a TNA house show at the Time Union Center on December 30th, 2012.
Ad blocker interference detected!
Wikia is a free-to-use site that makes money from advertising. We have a modified experience for viewers using ad blockers

Wikia is not accessible if you've made further modifications. Remove the custom ad blocker rule(s) and the page will load as expected.