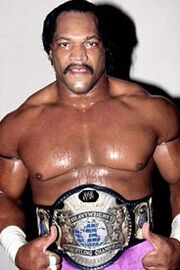 MagSeven is a longtime FARK wrestling thread poster, and holds the distinction of being the first Black Gredunza champion. Well, at least he says he is. For all we know, he could be a tiny Asian guy, or a colony of super intelligent Peeps bent on world domination, or maybe Don DeFore, who played the father on Hazel for the first four seasons before his character and his wife were shipped off to Baghdad, leaving his son and his maid Hazel with a heretofore unseen relative to limp through the final season before the show was mercifully killed.
Gredunza Win
Edit
MagSeven's historic Gredunza win took place on 1/9/12, in Baltimore, Maryland. He won his Gredunza with a scoop slam, and as soon as it was confirmed he had posted #1004, the crowd went wild, knowing they had been witnesses to history. His fellow posters flooded the thread to congratulate him, as the inner city youths of Baltimore wept openly at threadside, stunned and amazed to finally see a Gredunza champion that represented them.
Post Gredunza Life
Edit
MagSeven took the loss of his Gredunza the next week rather hard, showing up dressed in a blue skirt and silver helmet. He soon tired of the transvestite lifestyle, and settled back into regular posting, eventually joining the
No Pony Order
.