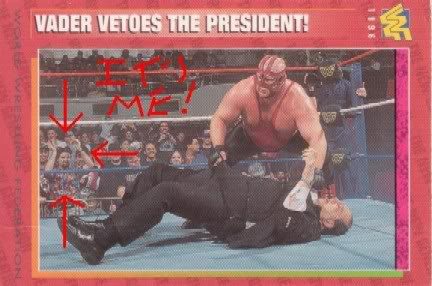 Farker
Dumb Ass Monkey
(DAM) found himself immortalized on a WWE trading card in 1996. The card depicted Vader laying a beatdown on the legendary Gorilla Monsoon.
The version used for the fWc features MS paint arrows and text pointing out the location of DAM on the card. It is one of the longest lasting and most classic of fWc memes.
The fact DAM spammed this card in any Fark thread that remotely had to do with wrestling long before there was a "fWc" or "weekly wrestling thread" makes DAM the original fWc member no matter what arguments any of you Pussy Pony Pounders bring to the contrary.  SMITHS HAS SPOKEN.
Dumb Ass Monkey Through Time
Edit
Much like Triple H, Dumb Ass Monkey and his infamous "It's Me!" card spawned a few photos of DAM through time, letting everyone know where he was in key moments in history.
It's Me - Redux
Edit
The "It's Me" meme has been applied to other members of the fWc on occasion.  Like when Dougie AXP appeared in the audience for a Live edition of Raw, otherwise known as "RAW is DOUGIE" during Smark Christmas, 12/19/2011.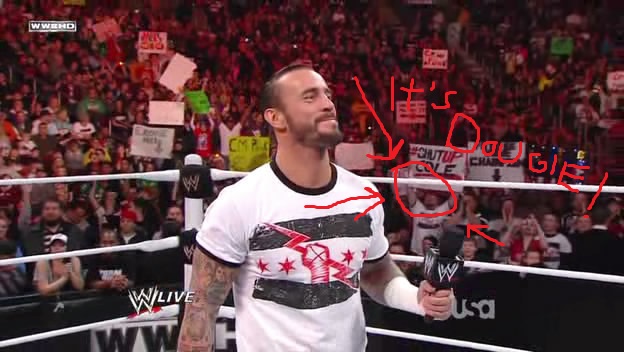 FWC member Ed Becker can be seen in footage of a match between CM Punk and Colt Cabana from 2001.
Gunny Highway can be seen in this still shot from a Ring of Honor's Death Before Dishonor IX at the Hammerstein Ballroom. If you like wrestling, you should check it out.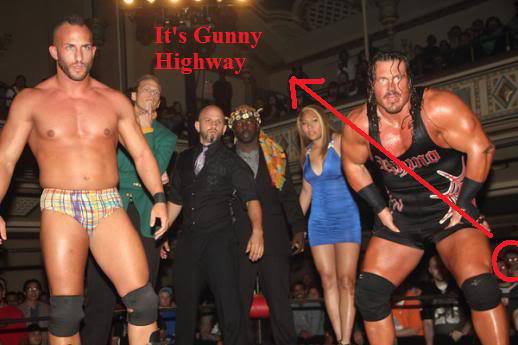 September 4th, 1995 
Mall of America, 1st WCW Monday Nitro IT'S P MONEY!!!
Ad blocker interference detected!
Wikia is a free-to-use site that makes money from advertising. We have a modified experience for viewers using ad blockers

Wikia is not accessible if you've made further modifications. Remove the custom ad blocker rule(s) and the page will load as expected.