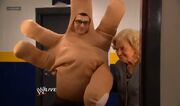 Handteen (formerly Handbaby) is the son of Mark "Mizark" Henry and Mae Young.
Handbaby was born on the February 28, 2000 edition of WWF RAW is WAR to Mae Young and Mark Henry.
Handteen made a surprise appearance backstage with his mother at RAW 1000 on July 23, 2012. His appearance remains, to date, the best thing ever to happen on WWE Monday Night Raw.
Ad blocker interference detected!
Wikia is a free-to-use site that makes money from advertising. We have a modified experience for viewers using ad blockers

Wikia is not accessible if you've made further modifications. Remove the custom ad blocker rule(s) and the page will load as expected.