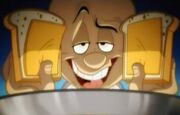 Fuddfiction is a type of slashfiction involving WWE personalities. The stories are generally of a fetishistic nature, and appear when talk in a FARK wrestling thread turns to discussions of a sensual nature. They are named for an accompanying picture of animated character Elmer J. Fudd, millionaire.
Identifying a Fuddfic
Edit
The Fuddfic is almost always contributed by FARKer and fWc member The_Y2P_Problem. The posts are always accompanied by a still from an episode of The Looney Tunes Show where Elmer Fudd sings a love song about grilled cheese. The text afterwards is written in an approximation of Elmer's speech impediment, and can be counted on to contain some borderline disturbing situations involving WWE wrestlers and divas.
Sample Fuddfic
Edit
From the October 21, 2013 RAW thread:
"Sheamus was duh fiwst to awaken, gwoggy fwom duh dwugs in his dwink.  He, Nikki Bewwa, and Bwie Bewwa had gotten wost duh night befowe duwing duh touw of Gewmany and had stumbwed into a quaint home owned by a stwange doctuh.  Duh doctuh had given dem hospitawity, but his phone was out and thewe was no ceww phone sewvice.  It was den duh Bewwas and Sheamus feww asweep.  Sheamus woke nude and on a wong steew swab.  He meekwy covuhed his shame he twied to get his beawings.
Wittwe did he know what howwows awaited him...
Sheamus went to caww fow Nikki and Bwie, but weawized dere was something in his mouth keeping in fwom speaking.  Duh panic caused duh dwugs to wewe off and Sheamus' eyes widened in tewwow and his skin pawed even fuwthuh.  Stwaight ahead he saw duh weaw end of Nikki Bewwa.  He twied to puww away, onwy to find his mouth fiwmwy adhewed to hew wectum.  He heawd duh doctuh chide him. 'Don't puww... You'ww wuin duh sutuwes.  You and youw beautifuw fwiends awe pawt of my wondwous cweation.  A Human Centipede!  Huh huh huh huh huh....'
Sheamus heawd a scweam as Bwie awoke.  Bwie twied to wun, confused by duh pain, cowd, and dwugs.  She couwdn't wun, duh wigaments in her wegs sevewed as pawt of duh mad doctuh's expewiment.  So she cwawled, not weawizing dat she was dwagging Nikki and Sheamus beside hew.  Sheamus gwipped duh metaw swab to keep fwom being puwwed off.  Duh doctuh quietwy wawked ovuh and injected Bwie with a needwe to sedate her.
Den, duh doctuh wawked ovuh to Nikki Bewwa, sewn between hew sistuh and Sheamus.  Duh doctuh swowe in Gewman as he checked fow a puwse.  Sheamus stawted to scweam in howwow as he weawized Nikki hadn't suwvived duh operwation... And dat she was duh wucky one."
Ad blocker interference detected!
Wikia is a free-to-use site that makes money from advertising. We have a modified experience for viewers using ad blockers

Wikia is not accessible if you've made further modifications. Remove the custom ad blocker rule(s) and the page will load as expected.