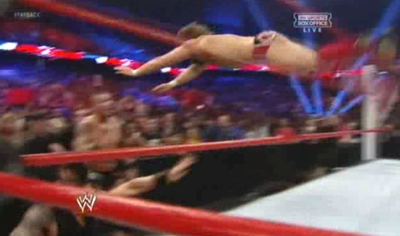 Dammit Orton! is a meme started by a fan yelling at Randy Orton at the WWE Payback PPV in Chicago, IL on June 16th, 2013.
Shield vs. Daniel Bryan and Randy Orton
Edit
During the match Daniel Bryan tried flying through the ropes to hit a member of the Shield and Randy Orton ended up taking the worst of it. A fan who was close by yelled at Randy Orton, "Dammit Orton, it's all your fault." What is not know is if this fan was being snarky or marky. FWC picked up on this fan yelling and started saying "Dammit Orton!" for every little thing that Randy Orton did.
Ad blocker interference detected!
Wikia is a free-to-use site that makes money from advertising. We have a modified experience for viewers using ad blockers

Wikia is not accessible if you've made further modifications. Remove the custom ad blocker rule(s) and the page will load as expected.